Take Heart from Bethlehem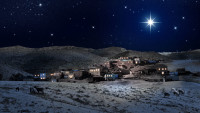 It was in Bethlehem, not Jerusalem, that Jesus was born. Bethlehem was a poor town, where many people lived in modified caves. The markets were likely to have been small, and the town without beauty. The land would have been parched and the shepherds would have struggled to find grass to feed their small flocks of sheep. I imagine the town stank of sheep, donkeys, camels, inadequate sewerage and unwashed bodies. That in many ways Bethlehem is still such a town is, for me, a physical reminder that God was, is, and always will be, born in oppression and poverty, in dryness and ugliness, and in ordinary boringness.#
God stays where man won't, He loves where man can't and forgives when man doesn't.
Christmas means that which man honors, God avoids.
Amidst the ugly side of life this Babe is sought, and from humility this Babe is found.
Jesus is met in the super heated fire-pits of earth and their ashes of emptiness, but rarely in the distracting gilded temples of the gods.
Feeding troughs are cots men deign to seek - except the wise.
Awash in obscurity Bethlehem was perfect for a modest God to enter His world torn with heartache from pride.
But you O Bethlehem, though you are small among the clans of Judah out of you will come for Me one who will be ruler over Israel, whose origins are from of old, from ancient times. (Micah 5:2)
Take heart from Bethlehem for God still honors the small, remembers the forgotten, and delights in those insignificant.
Today's Soul Snippet:
Humility is knowing who you were without Jesus, and seeing who you are with Him.
Permission is granted (and you are also encouraged) to reprint SoulSnacks in hard copy form, using them for Bible Studies or other Christian forums, as well as sending them to your own email lists and posting them on your own websites. SoulSupply asks only that you keep the SoulSupply website and email contact information intact.
Love this SoulSnack? - PLEASE take a moment and share it with a friend. Would you like to subscribe for free SoulSnacks either weekly or each workday?
#Italics reproduced from O Little Town of Bethlehem How Still We See Thee Lie ~ Good Samaritan Sister Marella Rebgetz