The Desert of Bitterness ~ A TRANSFORMING TIMBER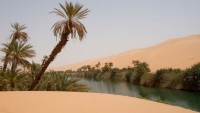 There are two conditions of the heart no one can hide: one the heart is filled with love and the other when we are infected with bitterness.# ~ Francis Frangipane
Then Moses cried out to the Lord, and the Lord showed him a piece of wood. He threw it into the water, and the water became fit to drink. (Exodus 15:25a)
With the noonday glare of a desert sun piercing Israels' eyes, these children of Heaven witnessed the bitter becoming the sweet. Moses threw life transforming timber into the bitter pool of Marah.
What Moses did was prophetic. The tree that was applied symbolically to the water was a picture of the Cross of Christ when it's applied to our bitter experiences - it turns bitter to sweet. ~ Francis Frangipane
Bitterness must be dealt with as God has guided if sweetness is to again be tasted. Each traveller with the Lord must pass up bitterness if they are ever find the oasis of abundant fresh, sweet water.
Re-energised these Egypt escapees travelled forward again. It was not long before one desert pool of bitter water had become an oasis of springs.
Then they came to Elim, where there were twelve springs and seventy palm trees, and they camped there near the water. (Exodus 25:27)
Forgiving, blessing and letting love be perfected by choosing for love and not enmity, is a casting of the wooden cross into life's bitter pools. (Italics from Francis Frangipane)
Spiritual Principle - 6
Sweetness is only found after obedience.
Today's Soul Snippet:
'A tongue has no bones but it can break a heart'. ~ anon
# Read also the Introduction to The Desert of Bitterness,
The Desert of Bitterness - RESCUE,
The Desert of Bitterness - MULTIPLICATION
The Desert of Bitterness - TESTING
Love this SoulSnack - PLEASE don't keep it to yourself? Would you like to subscribe for free SoulSnacks either weekly or each workday?