The God of Small Prayers Too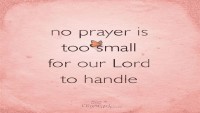 Many people do not believe this, but it is true.
They think God is interested only in big things. But the same God that made the flaming suns and mighty worlds also made the tiny insect. He fashioned the lenses of its little eye, and painted with the brightest colors its dainty wing.
This God is interested in the little, quite as much as in the great. Therefore we may bring everything to Him in prayer.#
Any concern too small to be turned into a prayer is too small to be made into a burden. ~ Corrie ten Boom
Trust in the Lord with all your heart and lean not on your own understanding; in ALL YOUR WAYS submit to Him, and He will make your paths straight. (Proverbs 3:5-6)
From the ends of the earth, through the remote watches of the night or as the heart grows faint call upon the Lord. Pitch your hope that it may camp beside Him and make your refuge in the shadow of His wings. (SoulSupply paraphrase from Psalm 61).
Today's Soul Snippet - THE SECRET to HOLINESS:
Keep in the will of God, obey Him, seek Him daily, waiting at His gates. Read the Bible regularly. Never neglect secret prayer. Keep testifying to the grace bestowed upon you. Help others.#
Love this SoulSnack - PLEASE don't keep it to yourself? Would you like to subscribe for free SoulSnacks either weekly or each workday?
#Penned by Commissioner Samuel Brengle of the Salvation Army. (1860-1936)