The Hills of Peace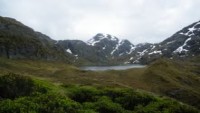 Soul Snack 174/14 ... Have you been waiting too long for God to keep a promise?
Patience is an enemy to the soul of strivings. It is a foe to the impulsive and a warrior against the restless.
Where there is little patience there is also little ease.
Patience is the expression of impotence and the ability to delay reward.
Patience is the strength of a convinced spirit, the living out of faith.
Patience recalls the faithfulness of God when outward evidence is contrary. It beckons the ill at ease to confirm God's fidelity will not cease, nor will His promises fail.
Whatever God has promised to you, whatever He has sown and then watered within your soul - cannot be stopped, it simply awaits the appointed time.
For the revelation awaits an appointed time; it speaks of the end and will not prove false. Though it linger, wait for it; it will certainly come and will not delay. (Habakkuk 2:3)
Patience is a trust that is a divine deposit to bank peace within, a foretaste of heaven.
Patience waters hope and lifts eyes to roam the hills of peace; for there is no hurry but perfect certainty when God is behind it.
Patience quietly rests and anticipates there is always the correct appointed time.
Today's Soul Snippet:
The impossible is available to those who rely on the eternal.
Love this SoulSnack? - PLEASE take a moment and share it with a friend. Would you like to subscribe for free SoulSnacks either weekly or each workday?