The Meaning of Job's Suffering ~ Part A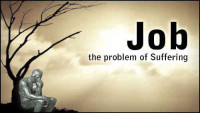 Job's Biblical status lives on in history as the measuring line to suffering, only exceeded by the Passion of our Lord.
Chapters 1 & 2 tantalise their reader as God permits satan to test the righteous Job.
The permission satan receives is a heavenly transaction. Such deals mankind cannot imagine, let alone witness.
Satan and God have negotiated the testing of a blameless Job. But, the angels listened and watched on.
I wonder if heaven was lit with a spreading murmur of God and satan's chats?
The question is raised to any reader, will despairing men really forsake the Almighty? (Job 6:4b)
From suffering the humble and the wise will acknowledge God's sovereignty; yet refuse to bring accusation against Him or raise their fists heavenward in blame and threat.
These folk still have no clear reasons for their abiding hardships, but in trust they will continue.
Though Job is beset by suffering and loss on every side, his trust endures even when understanding fails. Scripture does not present Job's experience as a way of understanding evil, but as a way to live with it. ~ Brennan Manning
Though He slay me, yet will I hope in Him. (Job 13:15a)
The good Lord questions all who would sit quietly with the book of Job to correctly examine their heart:
When all is stripped away will you still praise Me? ~ Beth Taylor
Today's Soul Snippet:
'Our trust in Jesus grows as we shift from making self-conscious efforts to be good to allowing ourselves to be loved as we are (not as we should be).' ~ Brennan Manning
ENJOY too ... The Meaning of Job's Suffering ~ Part B
Love this SoulSnack - PLEASE don't keep it to yourself? Would you like to subscribe for free SoulSnacks either weekly or each workdays.