The Non - Judgement of Jesus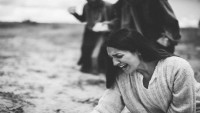 She cowered. Stones were lifted for flight. Adultery meant death.
Jesus stood to the side and watched. The crowd bleated and spat venom. Then He stooped to scratch in ancient dust. She had been caught in adultery. But, Jesus was intent on blessing not blaming, caring not condemning. He did not charge this sinner with sin.#
I too am as a monkey caught with his hand in a jar, or that woman caught in adultery. There is no high ground to claim. (I suspect we all may live this same life in many varying degrees.)
DEAR LORD,
You know the sinfulness of my heart and
the tapestries of my temptations -
Yet still You with-hold no good.

You know the fires that rage within,
and the allure of my world -
Yet still You give without finding fault.

You cheer when I succeed,
and You lift when I fall -
Always You carefully remain beside me.

You fully know the depth of my sin,
And the color of my soul -
Yet still You sing over me!

You see the tears of my eyes,
And feel the pain of my depths -
Yet still You do not despise me.

You watch the activities of my hands
And the sleep of my body -
Yet still You are not bored with me.

You witness the blunders of my being,
And the indulgence of my soul -
Yet still You won't cast me adrift.

I am no more worthy of You,
Than dark is of light,
Night is of day or,
Evil is of good.

I am not worthy to belong to You,
but still You invite me to Your banquet -
That I may enjoy the richest of Your fare.

Your mercy has unshackled my chains, and Your grace has filled my voids. Always You refuse to hold my sins against me. NOW - my joy is to first feast with You. AMEN
A humble knowledge of thyself is a surer way to God than a deep search after learning. ~ Thomas a Kempis
How joyful is the man the Lord does not charge with sin and in whose spirit is no deceit! (Psalm 32:2)
Today's Soul Snippet:
'Unbelief is the shield of every sin.' ~ William Jenkyn
Love this SoulSnack - PLEASE don't keep it to yourself? Would you like to subscribe for free SoulSnacks either weekly or each workday?
#NOTE, Jesus did warn this woman to not continue in sin. Jesus' grace is not a permission to further sin. Yet sin is no barrier to receiving Jesus' love. If it were, none would know Heaven. See this full story in John 8:1-11.