The Perfect Spiritual Recipe ~ Billy Graham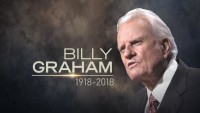 It is impossible to omit mention from the pages of SoulSupply the passing of a man so willingly and powerfully used by God, maybe even above all men (except Jesus)?
To my mind (not that I was there) 1945 was remarkable, for World War Two ended. It was also noteworthy for three rookie evangelists who erupted on the U.S. preaching circuits:
27 year old Billy Graham
30 year old Chuck Templeton and
25 year old Bron Clifford.
By 1950 Templeton had recanted his faith in favor of agnosticism. By 1954 Clifford had lost his family, his ministry, his health and finally his life.
Within only one decade this constellation of three evangelistic stars had been reduced to one super-star and two black holes.
Billy Graham's ministry only ever gained momentum, until ill health began to catch him late last century.
He personally spoke to over 215 million people across the nations. From the Carolinas God enlarged his territory to the world. Those who are faithful in small things are given more.
Faithfulness in little things is a big thing. ~ Chrysostom
Trust in Jesus was the kevlar-like fabric of Billy Graham. It was his very DNA. And so integrity was his heated core.
Scandal free, very resistant to gold and no glory seeker was the perfect spiritual recipe for a man whose college sweetheart dumped him as a:
man who would amount to nothing.
His last message was as bold as his first. It was the same as his first. Ignore Jesus' love at your peril, but accept His love and His forgiveness to your eternal gain. It was always simple.
Billy Graham was the Lord's impassioned voice as he preached:
I am setting before each of you the way of life or the way of death. (See Jeremiah 21:8)
After Billy's first crusade in Sydney Australia 1959, it was reported the crime rate dropped for around four years, such was the strength of his preaching and his convictions for the Lord.
Billy Graham lived the axiom:
long races don't require speed but moral fiber.
We can all learn very loudly from William Franklin Graham that:
it is not how you begin the Christian life that matters, but how you finish.#
Today's Soul Snippet:
'Turn the Bible into prayer'. ~ Robert Murray McCheyne
Love this SoulSnack - PLEASE don't keep it to yourself? Would you like to subscribe for free SoulSnacks either weekly or each workday?
Some reflections and facts in today's SoulSnack were sourced from - Steve Farrar, Finishing Strong (Oregon, Multnomah Books, 1995) 3-7