The Princes of Israel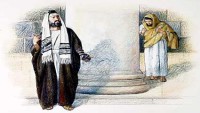 Soul Snack 191/14 ... The princes of Israel are the servants of God's people; they are to willingly care as shepherds of His flock.
Take up a lament concerning the princes of Israel (Ezekiel 19:1)
And the Lord said to me:
Take up a lament concerning my princes - they have grown fat on their knowledge about Me, they have leant upon their own skills I did not give them, searched their own wisdom not of Me. They have not sought me with all their heart, mind and soul. I am neglected in their heart, absent from their presence and their souls sink in poverty.
Oh if they would only turn from their ways, seek me, fall upon their knees and delight in Me; I would rise up from my throne, throw heaven's beams of faith to them and heal all their ways, I love them so much.
If they refuse and remain in their indulgent and arrogant ways I will pour out my judgement and water them with my wrath.
This I have spoken - he who has an ear let him hear.
Not many of you should become teachers, my fellow believers because you know that we who teach will be judged more strictly. (James 3:1)
No prince is beyond God's reckoning, as no pauper is beyond His redemption.
The faith and love of the church too often only blinks in the pulpit but shines in the pews.
Today's Soul Snippet:
"Only those who have fallen in humility at the foot of Jesus will ever witness the scars on His feet and receive His embrace." ~ Michael Cartwright
Love this SoulSnack? - PLEASE take a moment and share it with a friend. Would you like to subscribe for free SoulSnacks either weekly or each workday?