The Profit that is Prayer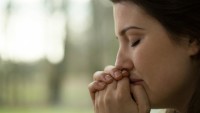 Our extremities are the Lord's opportunities.
The fox flies to its hole for protection; the bird flies to the wood for shelter; and even so the tried believer hastens to the mercy seat for safety. Heaven's great harbor of refuge is All-prayer. Thousands of weather-beaten vessels have found a haven there, and the moment a storm comes on, it is wise for us to make for it with all sail. - C.H. Spurgeon
What cause weighs within so many men that it is only from life's hardest cycles that they will call to Heaven?
Surely the prayer-soaked soul shall hinder, even prevent much disaster and pain?
Those who practise prayer permanently gain a protection that those who only manage prayer periodically would fail to imagine.
Prayer invites me into the presence of God, which is:
...a shelter and shade from the heat of the day, and a refuge and hiding-place from the storm and rain. (Isaiah 4:6)
Prayer is erecting a fence at the top of the cliff and not parking an ambulance at the bottom.
Today's Soul Snippet:
"Faith in Jesus laughs at impossibilities". ~ C.T. Studd
Love this SoulSnack - PLEASE don't keep it to yourself? Would you like to subscribe for free SoulSnacks either weekly or each workday?