The Station That Few Men Can Survive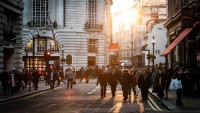 Is there a greater test upon the human mettle than honor?
All mankind is tempted toward conceit - more so those who do not reckon with self, or hold great skills and high honor.
Honor needs to be colored, tempered with a hardship.
So to keep me from becoming conceited because of the surpassing greatness of the revelations, a thorn was given me in the flesh, a messenger of satan to harass me, to keep me from becoming conceited. (2 Corinthians 12:7)
The great apostle Paul wrestled with a demon, He pleaded with the Lord for release, but there was none.
Honor received without hardship is the perfect recipe for pride.
Honor without hardship is the station that few men can survive.
Honor without hardship easily becomes the wide path to destruction.
When the Lord numbers a man's days with honor He too sends hardship, for humility then remains a man's life-giving scaffold.
It is only in a man's weakness that God's power truly rests upon him. (See 2 Corinthians 12:1-10)
Today's Soul Snippet:
'Sin is ridiculously resilient and so difficult to detect, for it is obscured by pride.' ~ Michael Cartwright
ENJOY too ~ Pride - the unseen disease! & When honor is safe.
Love this SoulSnack? - PLEASE take a moment and share it with a friend. Would you like to subscribe for free SoulSnacks either weekly or each workday?