The Truth that IS in Jesus ~ B
Soul Snack 64/14 ...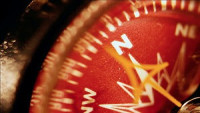 To prayerfully ponder Ephesians 4 of the Holy Scripture will recalibrate the way we live in this world. These truths should remind each of us that we are surrounded by forces antithetical to the way of Christ; that we are being bombarded by voices wanting us to turn toward the darkness and away from the light; that we are vulnerable to the siren songs seeking to rob us of our "inheritance" as sons and duaghters of God, who is now "our Father" because we "are faithful in Christ Jesus". (Ephesians 1:1-2)
My experience as a disciple of Jesus has taught me that this apostolic understanding, this basic Christianity, is not the ordinary reality among many church going people today, across vast parts of the world.
How can this be?
There is only one clear answer, if we heed the words of the Apostle Paul and absorb their implication: we have not been taught the way of Christ "as the truth is in Jesus." We have been taught "some way," but not the way "as the truth is in Jesus." The true way puts Jesus in the center of our whole life. Other ways do not.#
So I tell you this, and insist on it in the Lord, that you must no longer live as the Gentiles do, in the futility of their thinking. (Ephesians 4:17)
With Christ at the center, a life of self-crucifixion becomes evident, indeed available.
BUT it remains both empty and more comfortable wavering towards the religious salesmen of prosperity and indulgence, yet surely not wiser or safer?
Today's Soul Snippet:
Jesus came to be the feast on my table and not just a snack on my menu for life.
Love this SoulSnack? - PLEASE share it with a friend. Would you like to subscribe for free SoulSnacks either weekly or each workday?
# Reproduced with kind permission from Rev. Canon Dr. Jon C. Shuler, PhD
ENJOY - The Truth that IS in Jesus ~ A