To the Lost, the Least, the Last & the Lonely...
God gathers His lambs into His arms and carries them close to His heart. ~ Isaiah 40:11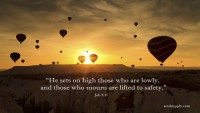 Praise the Lord and thank Him when you find the poverty of man's approval. Save it in your soul as you would a banknote in your wallet.
Fear the chance of favor, flee the day of applause when all men may speak well of you, for:
'A man that has nothing to recommend him is a man that can be used of God'. ~ A. W. Tozer
Today's Soul Snippet:
The Man of Sorrows died for the men of sorrow.
ENJOY too ... God's Letter to the Illegitimate
Love this SoulSnack? - PLEASE feel free to share it with a friend, post it on a blog page, on a website or share it on social media.
Would you too like to subscribe for free SoulSnacks either weekly or each workday.