Two Rows by the Sea#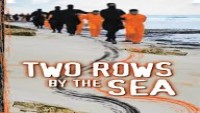 In February this year the gruesome beheadings of 21 young Egyptian Christians in Libya presented a sober opportunity for the Gospel in Egypt, where Christians and Muslims became united in grief over the slaughter of their countrymen.
Two rows of men walked the shore of the sea,
On a day when the world's tears would run free,
One a row of assassins, who thought they did right,
The other of innocents, true sons of the light,
One holding knives in hands held high,
The other with hands empty, defenceless and tied,
One row of slits to conceal glaring-dead eyes,
The other with living eyes raised to the skies,
One row stood steady, pall-bearers of death,
The other knelt ready, welcoming heaven's breath,
One row spewed wretched, contemptible threats,
The other spread God-given peace and rest.
The question begging to be spoken … Who lost the most?
The row in orange, watching paradise open OR the row in black, with minds evil and broken?
They overcame satan by the blood of the Lamb and by the word of their testimony; they did not love their lives so much as to shrink from death. (Revelation 12:11)
The threats of violent men hold no candle to the gentle promises of the Lord.
Today's Soul Snippet:
"Righteousness is the high pursuit of the soul - indulgence, the high pursuit of self." ~ Michael Cartwright
Love this SoulSnack - PLEASE don't keep it to yourself? Would you like to subscribe for free SoulSnacks either weekly or each workday?
#First Published 26 February 2015 by The Bible Society ~ a special thanks again to Dr Stuart Quarmby for making this available. It contains a small SoulSupply edit from original.