Waited Too Long?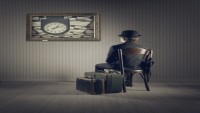 Soul Snack 211/14 ... It seems so unfair - Noah hammered away at an ark in the desert for 99 years and Abraham was 100 before his wife bore him a child.
Time is cheap to God; He has no shortage of supply.
Are you still waiting for an assignment from the Lord, or maybe a divine promise to be kept?
Does heaven appear silent, or have you been forgotten?
The Apostle Paul was delayed in darkness a mere breath of three days before his blinded eyes were restored. It is in waiting that scales are slipped from all eyes. (See Acts 9:1-19)
God will accomplish His purposes; this is not of you.
Only patience can see fulfilment.
The zeal of the Lord Almighty will accomplish this (Isaiah 37:32b)
God's assignments and God's promises are never received prematurely.
The Lord's waiting room is for the reconstruction of the soul. In it is the seat between what was and what will be.
What God has purposed from days of old for you, He only can bring to pass. What God ordains He also orders; you cannot hasten it.
It is in waiting you learn too God's view of time, for time is only expensive in our eyes.
Today's Soul Snippet:
"Church is not for the shepherd but for the sheep." ~ Michael Cartwright
Love this SoulSnack - PLEASE don't keep it to yourself? Would you like to subscribe for free SoulSnacks either weekly or each workday?
A similar SoulSnack ~ Waiting in Pain?