When Church Hurts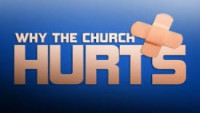 'Church is a re-fuelling station - the spiritual frosting on the cake after a week of personal cake baking.' (Maggie Woychik)
When you don't feel like going to church anymore, it is likely church has dried you up or punched you out. There is no fuel there for you.
Last century an unashamed prophet Leonard Ravenhill speculated:
May weakness in the pew be caused by weakness in the pulpit?
This ever growing group of church absentees is aptly named the dones; those done with attending denominational church, but not with their Christian faith.
Many dones have dwelt under a general and not under a grazier. Their hearts have screamed for love, but all they heard was law. Unwittingly they sat in a court and not a church.
God's shepherds are graziers, not generals.
If pastors, priests and ministers are shepherds (and they are) the Lord is not appointing shepherds to turn audiences into armies (that is His doing - Matthew 9:38), but rather provide a safe place for quiet, refreshing and redeeming grazing.
Sheep are never the shepherd's servants.
The shepherd who seeks to turn an audience into an army is unable to see his own hubris. He:
assumes he can do God's work. He dons God's mantle. This is not wise - it is proud.
wears the flock out as they attempt to keep up with his demands, his programmed activities. This is not kind - it is cruel.
scatters the sheep, for in such a congregation he has shown them his laws, and not God's love. This is his way of showing that he must increase - Jesus must decrease. (See John 3:30)
If your church shows you law while you hunger for love, you are in a court not a church.
God's shepherds follow the Good Shepherd. Shepherds carry their sheep, leading them to still waters, and green pastures that restore the sheeps' souls.
This is the second call# of God's gathered people - edification not education, rest not work.
God's shepherds carry the sheep upon their shoulders, and do not ride upon their backs. The sheep then can only collapse.
All sheep require a safe field to graze, and so grow. This is the care of the flock. It is a strengthening of the weak, the healing of the sick, and a binding up of the injured. And too, any good shepherd seeks out the lost and those who have wandered.
The sheep that are led to the quiet waters are gathered, not scattered - for there is no fleeing when there are the pools of refreshment.
Church is not for the shepherd but for the sheep, because God's shepherds are graziers and not generals.
He tends his flock like a shepherd: He gathers the lambs in his arms and carries them close to his heart; he gently leads those that have young. (Isaiah 40:11)
(A p.s. to pastors... 'No man is greater than his prayer life. The pastor who is not praying is playing!' - Leonard Ravenhill)
Today's Soul Snippet:
'Investing in life and service without prayer is equal to placing your money in a bank run by thieves. All will be lost.'
Also in this series ~ The Authentic Shepherd, The False Shepherd, Why the Sheep Flee, The Match of Cleansing, Unsettling Proposals for the Christian Church and Stirring 9 Reformed Sensibilities
ENJOY too - Theological Twilight ~ A
Did you find this SoulSnack helpful? Would you like to subscribe or forward it to a friend?
#The first call of a gathered church is worship. In worship edification begins. Note there is no true worship if it is forced. (See Psalm 100:2 & 4)