When Evil Wears a Party Mask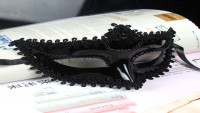 'Halloween kickstarts our annual extended welcome to the souls of the departed' ~ Elizabeth Farrelly. She knows not Jesus, but is sure correct on this point.
So, stop for a moment. Would you...
Would you give your son a snake when he asked for fish?
Would you give your daughter a scorpion if she requested an egg?
Why then would Christians honor the serpent of Eden (the dragon of Revelation) by sharing in his Halloween celebrations, permitting our children to be caught up by its binding and blinding?
Why would we give our children the gifts of darkness, if these gifts hadn't been first wrapped in deceitful light?
Halloween is:
an agent of hostile darkness disguised as an angel of innocent light,
the world ignoring Christ to celebrate satan, offering satan blind praise - and
a roaring lion wearing the mantle of a passive lamb.
Be alert and of sober mind. Your enemy the devil prowls around like a roaring lion looking for someone to devour. (1 Peter 5:8)
With little spiritual discernment Christians have bought satan's lies as wholeheartedly as the world. They too now call evil good, and that which is harmful as harmless.
Satan has placed another yoke upon the shoulders of mankind, another burden to oppress. As the wallet is emptied children become vulnerable.
At Halloween the Lord of Light is slighted while prince of darkness is celebrated.
Do not be deceived - the evil one is actively seeking only worship for him.
Halloween has become a strikingly sanitary (and therefore enduring) presentation of darkness.
Events of October 31 each year beckon the Christian to exercise spiritual discernment rather than worldly acquiescence for:
Halloween is the season when evil wears a party mask.
Today's Soul Snippet:
"Those who seek to do much for the Lord must first linger long with the Lord."
Permission is granted (and you are also encouraged) to reprint SoulSnacks in hard copy form, using them for Bible Studies or other Christian forums, as well as sending them to your own email lists and posting them on your own websites.
Would you like to subscribe for free SoulSnacks either weekly or each workday?
Find out more at Making Sense of Halloween