When there is no God to Trust
Those who know what prayer is, know it is a labor, and at times a travail.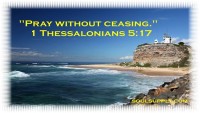 It is believing when the blackness of night hangs over one.
Prayer is trusting God when there does not seem to be any God to trust.
It is spending the last penny when you cannot see where more is to come from.
Prayer is thanking God for every time one has been driven into a corner, for there God is proved to be the God of Deliverances.#
Today's Soul Snippet:
Prayer is the glue that binds earth to heaven and a disciple to Jesus.
Love this SoulSnack - PLEASE don't keep it to yourself? Would you like to subscribe for free SoulSnacks either weekly or each workday?
#Penned by Charles Henson Barnett, Australian missionary with Hudson Taylor of the China Inland Mission (1893-1907)