Whispers to the Soul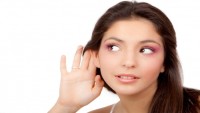 Soul Snack 49/14 ... An impossibly vast chasm divides those lost in the world from those lost to the world. This void is fixed by God and can never be bridged by man.
Christianity is still to learn the impossible reconciliation of being taken by the world and God simultaneously.
It is in hardship that the believer is stripped of the world, and true discipleship is learned.
Faithfulness is only possible when unfaithfulness is available. ~ anon
Suffering fades easy-believism, the desires of the flesh fail to scream, and whispers to the soul become audible.
Into distress God constructs a cross-shaped bridge of escape; that the soul may step quietly upon. It is then that traversing the chasm begins.
In crossing the bridge Heaven's whispers are heard, and fathoms are delved that none can master through the flesh.
Love deeper than the chasm's width is spoken of. It is an unnatural love to man, soaked in divine good intentions for the cross-walker's temporal and eternal goodness.
The bridge to His whispers can be excruciating (remember it's a cross), but it is heaven for those who will endure to the other side.
Consider him who endured such opposition from sinners, so that you will not grow weary and lose heart. (Hebrews 12:3)
Today's Soul Snippet:
"Never forget that what gives value to a sacrifice is not the renouncement it demands, but the degree of love which inspires the renouncement." ~ Cyril of Alexandria
ENJOY ~ The Autumn of the Soul
Love this SoulSnack? - PLEASE share it with a friend. Would you like to subscribe for free SoulSnacks either weekly or each workday?