Who's 'DA BOSS'?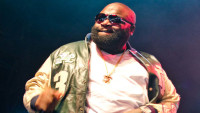 Just three days ago 'DA BOSS' inched lazily past me in his white muscle car. 'DA BOSS' license plates were his megaphone. He was cruising, just wanting to be seen. His license plates announced his self-perception.
Jesus' cruise to honor was far different, in fact like no man's in history - as was His cousin John's.
John the Baptist preceded Jesus to death. Desert dwellers and the crucified seek no accolade of man.
As Jesus began His ministry John the Baptist humbly taught his disciples:
Jesus must increase and I must decrease. (John 3:30)
Likewise Jesus at the start of His ministry taught the Jews, those naysayers and strict rule-keepers of perceived correctness:
By myself I can do nothing; I judge only as I hear, and my judgement is just, for I seek not to please myself but him who sent me. (John 5:30)
If I testify about myself, my testimony is not true. There is another who testifies in my favor, and I know that his testimony about me is true. (John 5:31-32)
I do not accept glory from human beings, but I know you. I know that you do not have the love of God in your hearts. I have come in my Father's name, and you do not accept me; but if someone else comes in his own name, you will accept him. How can you believe since you accept glory from one another but do not seek the glory that comes from the only God (John 5:41-44)
John and Jesus were alike, neither defended or promoted self.
John's 'cruising' in life was a sprint to decapitation, Jesus' 'cruise' led to His crucifixion. They both knew (and lived) that life was not about themselves, their aspirations.
The honor of man is as worthless as his gold that paves the streets of heaven.
Life is never about ME, for I have been bought at a price, I do not belong to myself.
I ain't 'DA BOSS'.
Today's Soul Snippet:
'The first reason for leaving sin is that God commands me to do so'. ~ D. Martyn Lloyd-Jones
ENJOY too - Sprinting to Honor
Permission is granted (and you are also encouraged) to reprint SoulSnacks in hard copy form, using them for Bible Studies or other Christian forums, as well as sending them to your own email lists and posting them on your own websites. SoulSupply asks only that you keep the SoulSupply website and email contact information intact.
Love this SoulSnack? - PLEASE take a moment and share it with a friend. Would you like to subscribe for free SoulSnacks either weekly or each workday?