You Can't Sleep In Gethsemane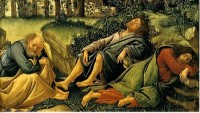 Gethsemane holds no pillows, nor any couches.
Jesus knelt in Gethsemane. He was already at war.
As Jesus conquered evil it crushed His troubled heart.
A wasted Jesus helplessly fell upon shaking knees. Jesus surrendered.
Jesus is acutely alert in the spirit. His anguished soul watered by tears. Jesus' body would soon receive the agony His soul already knew.
Bloodied droplets of perspiration crept down his clothing as they continued their course to earth.
Jesus was still available for the Father's will and not His own. He too knew He needed prayer. His anguish will ensure He is attentive to His Father.
Travail just does that - it makes us alert to God.
From travail the human soul reaches to God. But, tiredness resists Him.
As Jesus is overcome by tribulation, His three friends are overcome by temptation. In tiredness they drift asleep abandoning their Master.
Then he returned to his disciples and found them sleeping. "Could you men not keep watch with me for one hour?" he asked Peter. "Watch and pray so that you will not fall into temptation. The spirit is willing, but the body is weak." (Matthew 26:40-41)
From tiredness there is little resistance and the path to righteousness is easily released.
Temptation pursues the tired.
BUT there are three tips for these sleeping disciples from Jesus:
Temptation flees the tired who pray.
Sleepy faith is awoken by the words of Jesus. Read His words daily.
Self-alertness, watching and praying offers victory to the weary.
It is the tired and the weak, the frail and the failing who are indispensable to Jesus.
Today's Soul Snippet:
Jesus seeks helpers and not heroes.
Love this SoulSnack - PLEASE don't keep it to yourself? Would you like to subscribe for free SoulSnacks either weekly or each workday?
"LISTENING to JESUS" ... 2016 Lay Ministry Convention - Book Here